eg: when you want to make a pear frangipane tart, but just cannot muster the goods. The hubs wanted financiers, and I do have some egg whites in the freezer that need using, but I didn't have the patience to brown butter, etc etc.
I was inspired by Ruth Tam's newsletter last week, and applaud her use of ricotta in baked goods (side note: her salted honey ricotta biscuits are on my list to make). I had some pears and almonds around, and our rosemary plant has been *thriving* this summer – so here we are. Some low-key cozy fall baking to kick-off the season!
This pear, almond & rosemary cake is delightfully moist and has a great texture from the ground almonds. I'd recommend grinding your own, but almond flour or meal works as well. Rosemary is optional, but thyme or some other green herb could stand-in. Pears cook up tender and soft, so are some of my favorite fruits to bake with! If you want, you can use another fall fruit. Apples could work, but I'd almost recommend a quick sauté with some butter before using those on top of this cake.
Whatever you do – it's a great, semi-wholesome cake, fortified with ricotta and olive oil. We scarfed this down in 3 days, but did share a big slice with my dad. It is wonderful fresh, but the flavor improves over a few days! Enjoy this pear, almond & rosemary cake with your morning coffee or tea, or as an afternoon snack.
PS: yes, all gram measurements. I just didn't have the time to use cups and whatnot! I highly encourage all bakers to use gram weights and invest in a scale. It's efficient and accurate!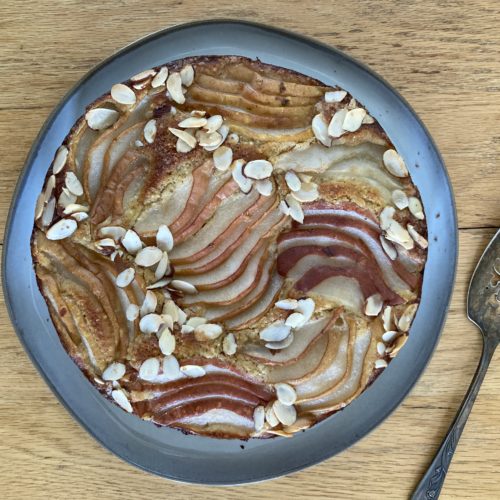 Pear, Almond & Rosemary Cake
When you're too unambitious to make a pear frangipane tart, this cake does an excellent stand-in. Perfect for dessert with some whipped cream, or great for a breakfast with plain greek yogurt! Sub in whatever herb you fancy, and any semi-soft seasonal fruit (like plums or peaches) could be used in place of pears. Adapted from Ruth Tam.
Ingredients
130

g

butter

softened

20

g

olive oil

extra virgin is fine

160

g

light brown sugar

Zest of 1 lemon

1

tsp

minced fresh rosemary

or any fresh herb

3

large eggs

2

g

fine sea salt

100

g

ricotta

whole milk is best

75

g

ground almonds

or almond flour

150

g

AP flour

14

g

(3 tsp) baking powder

3

large pears

mostly ripe, but firm is still ok, pears, cut into ⅓" slices

Flaked almonds and demerara sugar

for topping
Instructions
Preheat oven to 350F. Butter a 8" or 9" metal cake or springform pan, adding parchment to bottom if desired.

Cream by hand butter, olive oil, brown sugar, lemon zest, eggs, rosemary and sea salt in a large bowl. Add in the eggs one at a time, mixing well in between each. Add ricotta and ground almonds. Mix. The mixture will look split but it's fine!

Sift the flour and baking powder in a large bowl. Whisk to further combine.

Add the wet mixture to the flour/baking powder mixture. Mix with a whisk until just starting to combine, then switch to a rubber spatula to gently mix until just combined.

Pour and spread into prepared pan. Top with fans of pears. Top bare batter between the pears with flaked almonds. Scatter demerara sugar all over the top.

Bake for 45-55 minutes, until golden (about 190-200F temp in middle of cake if you're testing).

Allow to cool for 15 minutes in the pan, or until it's not too hot ot touch. Slide a knife or offset spatula around the edge of the cake, and release from the pan onto a cooling rack to finish cooling.