Call ye fall produce to the frangipane tart! Seriously, I really love a good frangipane tart. This particular apple and frangipane tart is a version of one of my aunt's classic recipes – she typically uses pear – and that is also delicious. Whichever fall fruit your heart desires, plunk it in a bed of frangipane, and you won't be sorry.
Last weekend, my mom, sister and I went apple picking at an orchard near where my mom lives. It was the perfect fall day, and was a really special outing…it is rare that all three of us can get together, and just enjoy a bit. We're all busy-bodies and my sister is on an extended visit from California – I've been cherishing the time together! Anyways – the apples were fabulous and we even got pumpkins and honey from hives at the orchard! Sweet – literally. We picked Ida Red, Enterprise and Pink Lady varieties. I used the Ida Red's for this tart, and love their pink-ish hue!!
I think many people forget, me included, that making pastries and such at home sometimes needs to be broken down into phases. Small bits of time that you have to make components, which can be frozen or refrigerated until you're ready to assemble. This apple and frangipane tart reminded me that, with #reallife, you need to make the best of what time you DO have. And often, with pastry, this actually works in your favor. Certain components actually benefit from a rest in the fridge or freezer!
My tips to make this apple and frangipane tart: make the pate brisee up to a week ahead – just remember to set your butter and eggs out to come to room temperature. After that, the dough comes together quickly and can be wrapped to store in the fridge. Or, freeze it if you need to for a few months. Make the frangipane a few days ahead, too. *If* you're super ambitious, you can either toast your almond flour OR roast whole almonds, then grind them medium-fine (careful to not make almond butter!). Doing this results in a more nutty, aromatic frangipane…but is by no means necessary…only if you want to!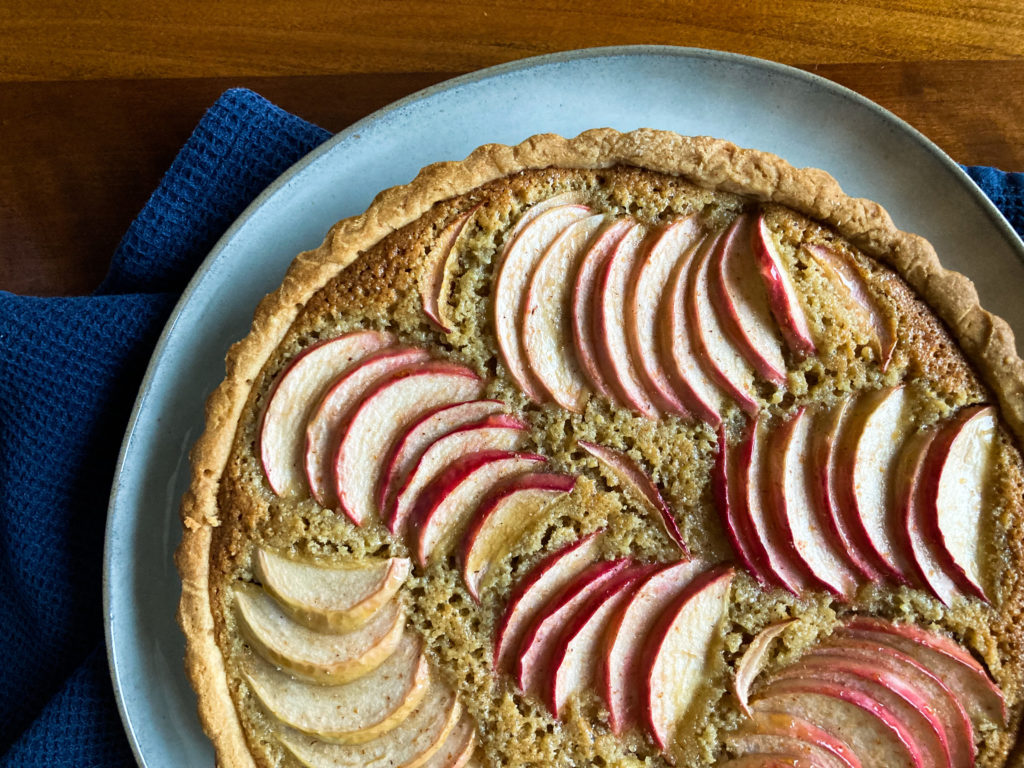 After making the pate brisee and the frangipane, you can roll the pastry out and blind bake the shell. You can even roll the pastry out a day ahead, and leave the un-baked tart shell in your fridge uncovered for up to a day. Filling the blind-baked tart shell with the frangipane and sliced fruit is a breeze (my favorite part: arranging the fruit on top!).
As I mentioned, you can totally use medium-ripe, firm pears in this recipe. You can also peel the apples or pears, but I usually leave them on. Feel free to add any spices you like to the frangipane – cardamom and dried ginger go super well with pears, and we all know that cinnamon and nutmeg are natural partners to apples.
Post-bake, I like to brush a thin layer of reduced maple syrup on the apples, since they do tend to dry out a bit. Next time, I may try poaching the apples in something delicious, to help keep them moist. Grating fresh cinnamon and nutmeg over the tart, hot from the oven, is a aromatic experience and highly recommended!
See this post for how to make pate brisee, and blind bake! Note that this pate brisee recipe will yield extra dough, so don't be alarmed when rolling out if you have quite a bit extra. It is enough to make another tart shell, but I highly recommend making the entire recipe as written, and saving scraps for a future use (i.e. do not divide the recipe in two).
Enjoy!
Apple Frangipane Tart
Seasonally perfect apples meet nutty, rich frangipane, all nestled into a perfectly tender and crisp pate brisee. Brush with reduced Wisconsin maple syrup, this tart is a perfect autumn treat! Adapted from my aunt's recipe.
Ingredients
Pate Sucree
1

Recipe

Pate Sucree

See link above in post!
Frangipane
1/4

cup (50g)

granulated sugar

1/4

cup (54g)

light brown sugar

1/4

cup (57g)

unsalted butter

room temperature

1/4

tsp

sea salt

I use fine sea salt

2

large eggs

3/4

cup (72g)

almond flour or ground almonds

optional: toast almond flour or whole almonds before grinding; walnuts can also be used here.

3

tsp

bourbon

or other liqueur, like Amaretto

1

tsp

vanilla extract

you can also use 1/4 tsp almond extract, if desired, to boost the almond flavor

2

TB (15g)

all purpose flour

1/2

tsp

cinnamon

1/8

tsp

freshly grated nutmeg
Reduced Maple Syrup & Spices for Glaze
3

TB

maple syrup

whole nutmeg and cinnamon stick

for grating over glazed tart, optional
Instructions
Pate Sucree
Make the pate sucree at least 1 day ahead. Roll out and blind bake up to 1 day ahead.
Frangipane
To the bowl of a stand mixer fitted with the paddle attachment (or use a handmixer; or food processor — especially if you're roasting and grinding your own nuts), add the butter, sugar and salt until fluffy, about 2-3 minutes. Scrape down the bowl.

Add the eggs, one at a time, beating to combine after each. Scrape down the bowl once to ensure even mixing.

Add in the remaining ingredients, and beat until everything is combined. Scrape with a spatula to make sure everything is incorporated. Place in a bowl, cover, and refrigerate until needed (up to a few days ahead of baking the tart).
Fill, Bake and Glaze the Tart
Allow frangipane to come to room temperature, if it was stored in the fridge. Pre-heat oven to 350F, with a rack in the middle position. Line a sheet pan with parchment if you haven't already with blind-baking the pate brisee shell.

Slice 2-3 small to medium apples into thin (about 1/4") slices. Keep sections of the slices together if you want to fan them out in the frangipane.

Spread frangipane into the blind-baked tart shell into an even layer. Arrange the apple slices in the frangipane, gently pressing them in.

Bake tart for 30-40 minutes, until the frangipane is golden and puffed.

Once out of the oven, gently heat 3 TB maple syrup in a small pan, allowing it to bubble for 30 seconds to reduce. Brush evenly over the still warm apples, re-heating the reduce maple syrup if it gets too cold and sticky while glazing. Grate nutmeg and cinnamon over the maple glazed apples, if desired.

Allow tart to cool before cutting. Store covered at room temp up to 2 days, or a few days in the fridge.