It was a week to call in reinforcements. Not for bad reason (besides a large flying hunk of ice hitting our car on the way home from work one evening….wtf), but just because it was time to re-stock the freezer with cookie dough balls. I like to have some on hand, and things were…slim in the freezer. Knowing me though, I'll probably end up baking-off most of these, and brining them to work this week, and keeping just a few for us. It's not that I don't like to have them around, it's just that I want to bake another thing….sooner. Anyways – in efforts to use up some of the chocolate stash and some random pistachios, I've modified my go-to chocolate chunk (or really any inclusion) cookie base by adding chopped white and dark chocolate, and pistachios – and voila – double chocolate chunk pistachio cookies.
It's straight-forward, and doesn't require a mixer even. There is a time and place to cream butter and sugar, like with my favorite sable recipes (here, here and here). But, it is good to know a few solid cookie recipes that don't require this step for sanity and science*, and this is a great one to riff on (experiment with different ratios of sugar and brown sugar, try a little bit of alt flour instead of AP flour, brown the butter, etc etc). I've tried milk chocolate and raisins, pecans and dark chocolate, and cocoa nibs and raisins (the original version) before, all using the same base dough, and all delicious. Use the best chocolate you can get your hands on, preferably from a chopped bar or feves. The cookies are crispy on the outside, yet still soft and gooey on the inside. If you love gooey cookies, take them out as soon as the cookies lose their wet-sheen during baking. Or, bake them golden-brown for more crunchy textures.
*Creaming butter and sugar is a step to aerate the cookie dough batter, and not only introduces more effort, but also it introduces more variation. Depending on how much air you whip into the butter-sugar mixture (which is a function of your butter temperature, speed/power of mixer, type of mixer, etc….), you can effect the cookie rise and spread and texture. Some days, I just can't deal with this, so here we are!
The original recipe is from Alice Medrich in her Bittersweet book (highly recommend this book, clearly). Alice suggests to bake the cookies on an un-lined baking sheet, but I really prefer to bake them on parchment. Half-way through baking, you can bang the pan on the oven rack to encourage more spread/rippling, and less puffing, but this is optional. Choose your own adventure.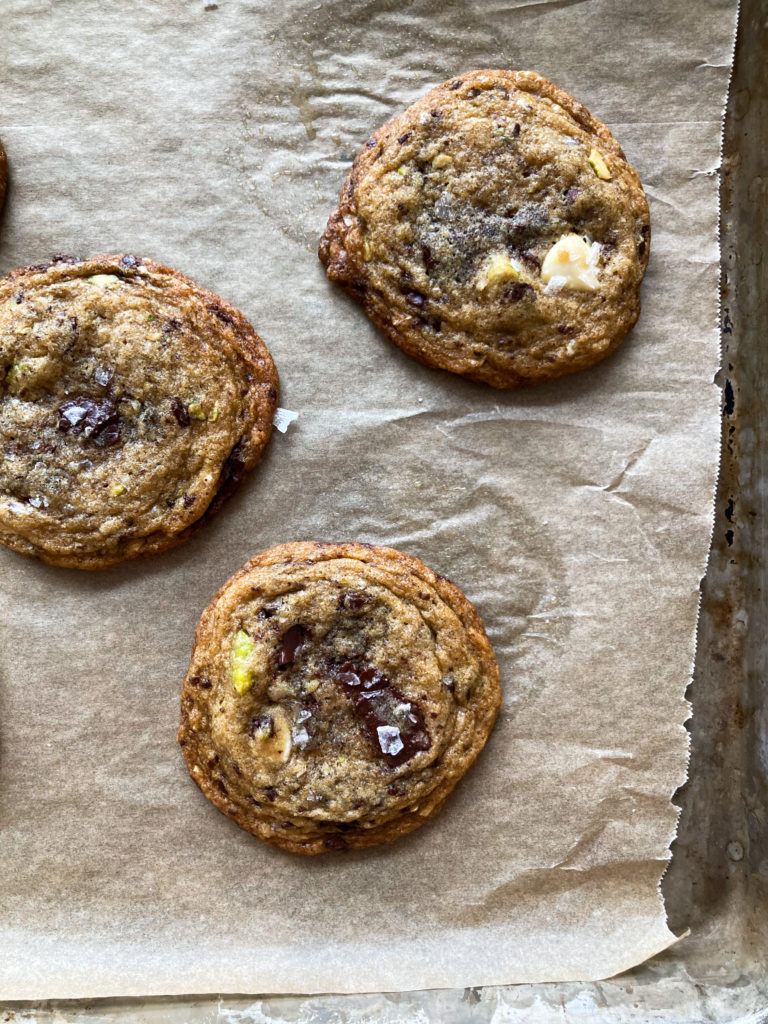 Have at it, and re-stock that cookie dough ball stash! We still have lots of winter weeks to get through, so you'll need comfort at any moment's notice. Recipe can easily be doubled with no issue.
Double Chocolate Chunk Pistachio Cookies
Makes about 2 dozen cookies (2 TB of dough each)
1 1/8 cups (138g) all purpose flour
1/2 tsp baking soda
1 stick (113g) unsalted butter
1/4 cup plus 2 TB (75g) granulated sugar
1/4 cup plus 2 TB (80g) packed light or dark brown sugar
1/2 tsp fine sea salt
1 large egg, cold from the fridge
1/2 tsp vanilla extract
1/2 heaped cup both white and dark chocolate, chopped into pieces
1/2 heaped cup unsalted, roasted pistachios, chopped into pieces
Sift the all purpose flour and baking soda together, or mix them thoroughly with a fork or whisk.
Melt the butter until just melted – do not over-heat it, otherwise it may heat the batter and melt the chocolate.
Add the sugars, sea salt and vanilla to the melted butter, then the cold egg. Mix thoroughly until smooth.
Add the sugar/egg/butter mixture to the flour, and mix until combined. Add the chocolate and pistachios, and mix to combine.
Cover the batter and allow to sit for at least 2 hours in the fridge, to firm up. Ideally, let the batter sit overnight in the fridge. Scoop into 2 TB sized dough balls, and sprinkle each ball with flakey sea salt if desired.
Bake on parchment lined baking sheets at 375F for 8-11 minutes, depending on your oven, temperature of the dough balls and how done you like your cookies. For my oven, I baked for 10 minutes in the middle rack. Allow to cool slightly before transferring onto a cooling rack, or, cool completely on the baking sheet (or just eat from the pan!).
Cookie dough balls can be refrigerated for up a week, or frozen for up to a few months. Store in a tightly sealing container or bag. Bake as usual from the freezer, adding a minute or so to the baking time.