Here we are! Heralding our way into the holidays, anxiously awaiting 2020 to be "over". I think it is a bit silly, since 2021 will likely be…similar. But, we're anxiously awaiting something different, a little more hope, checking our expectations. I hope that the days of 2021 gradually get lighter, for everyone. Holiday sables will help – I am convinced!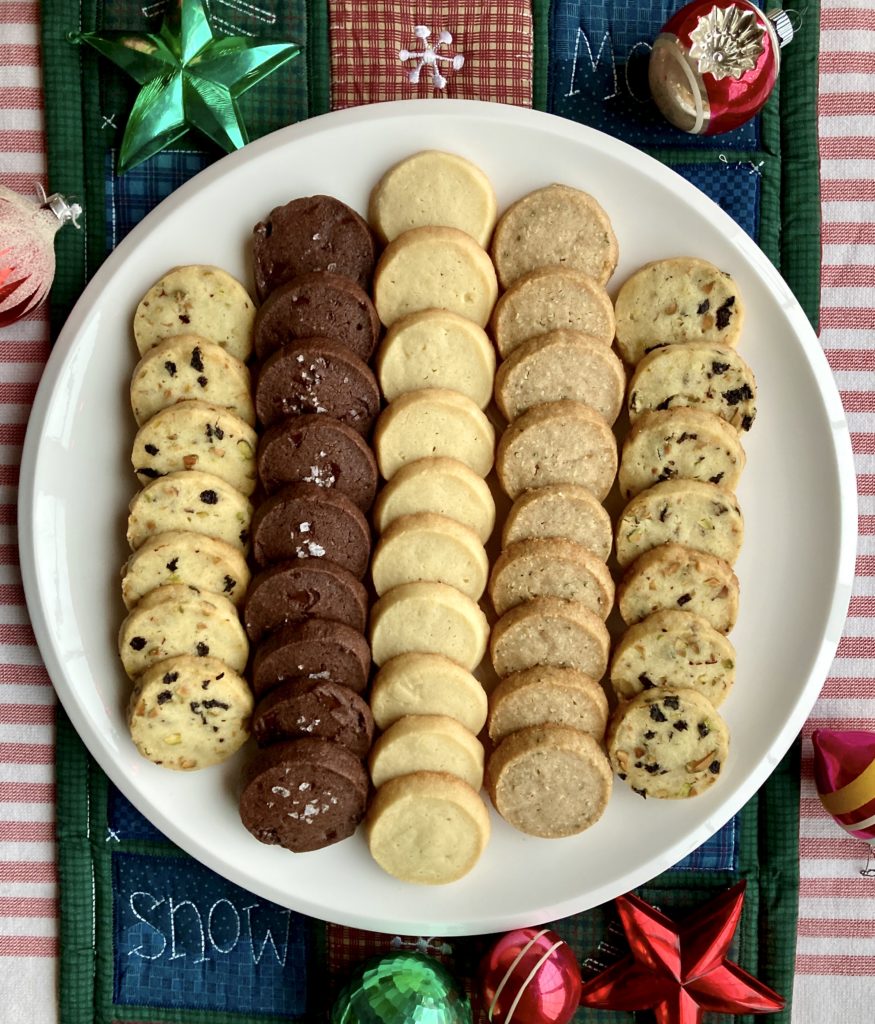 Since the holidays weren't like any other that we've experienced, Denis and I decided to deliver some cheer to our friends and family in the area – with contactless deliveries of course. We loaded the sleigh (ahem, the Subaru), and made our rounds. We delivered packs of these assorted sables, and boxes of brigadeiros – the iconic Brazilian chocolate caramel-like confection made from sweetened condensed milk, cocoa, and butter. Cooked to a mysterious temperature, with care taken to get it to the right texture (that I am still learning). The mass is cooled, then rolled in chocolate sprinkles (you know, those kinda trashy ones – but they are classic and perfect here). We donned masks, and sanitized our work stations to make sure everything was safe and sound while making the goods. Safety first, folks.
A Nostalgic Flashback of Butter and Chocolate
After we started making the brigadeiro, I realized that the confections that we made – sables and brigadeiro – are two riffs of two traditional holiday recipes that my family (me, my mom, my sister and grandma) would make – butter cookies and fudge! How cool is that? It made me smile.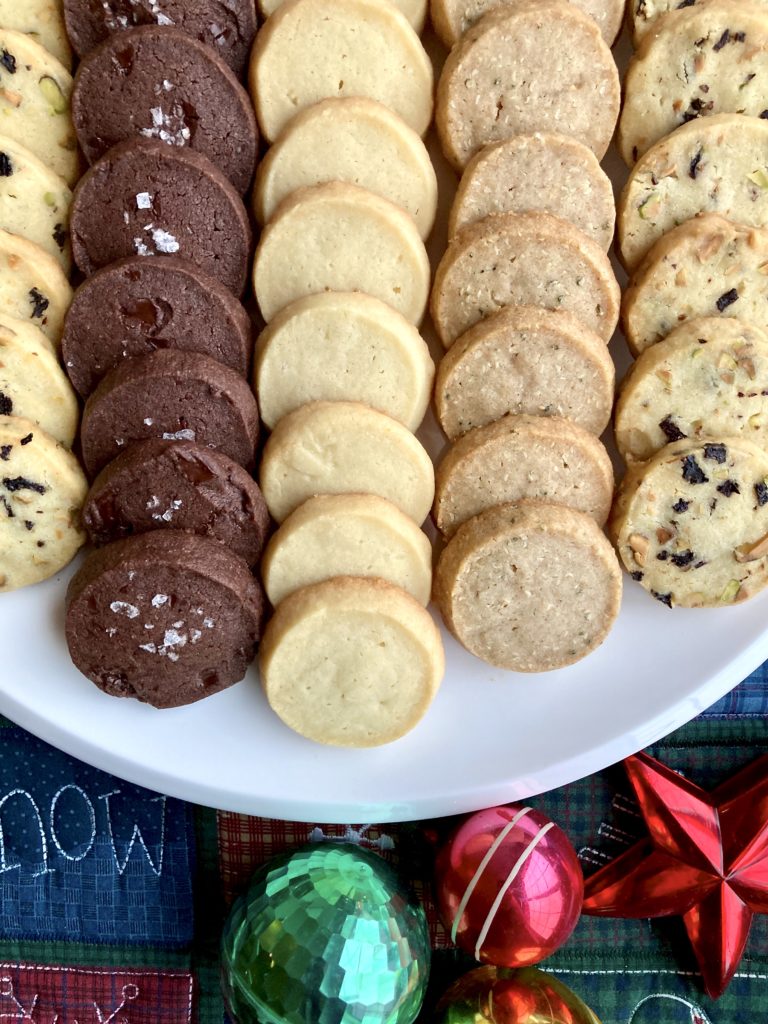 I hope that these fun ideas for holiday sables (french butter cookies) bring some fun, creativity and cheer into your winter days. The more I make sables, the more I like them – they are so versatile. They freeze well in their log form, don't have any leavening, are made from pantry staples, and are super customizable. And, I think they'd be great cut-out cookie material as well….
For my holiday cookies, I always strive to have something fruity, chocolatey, and spicy or nutty. Classic flavors are comforting too! So, my flavors for the holiday sables this year were:
"Fruity & Nutty" – Pistachio, dried cherry & orange (heaped 1/2 cup of each roasted & salted pistachios – chopped medium-fine, dried cherries & zest of 3 clementines).
"Chocolatey" – Chocolate, chocolate chunks & sea salt (replace 1/4 cup of the flour in the recipe for your favorite cocoa – since there is not leavening in this recipe you can easily use natural or alkalized/Dutch process; add in 2-4oz of chopped dark chocolate; top each cookie with a pinch of flakey salt right before baking).
"Spicey" – Whole wheat, chai-spice & hemp heart (replace 1/3 cup of the flour with whole wheat flour, and add in a variety of spices: 1 tsp cinnamon, 1/2 tsp cardamom, 1 tsp ground ginger, 1/4 tsp freshly grated nutmeg, 1/4 tsp clove; add in a heaping 1/3 cup of hemp hearts).
"Classic" – Vanilla & sea-salt (add in 1 TB of your favorite vanilla extract or the seeds of 1 vanilla bean, and a few generous pinches of flakey sea salt in addition to the fine sea salt called for in the recipe- I used 2 tsp of maldon).
Simply follow the recipe for sables here, and omit the pistachios, orange zest and chocolate (or just make those!), and add in your desired goodies. Don't stress too much about how much to put in – except for the cocoa and whole wheat flour since you have to omit the all-purpose flour amount in equal ratio. Have fun, enjoy and share (if you can – safely!).