Ok, I know – goat cheese and rose. It's a love it or leave it flavor for both, but I love it. And I'll strive to make others love this fun combination, too with this rose berry and goat cheese cheesecake!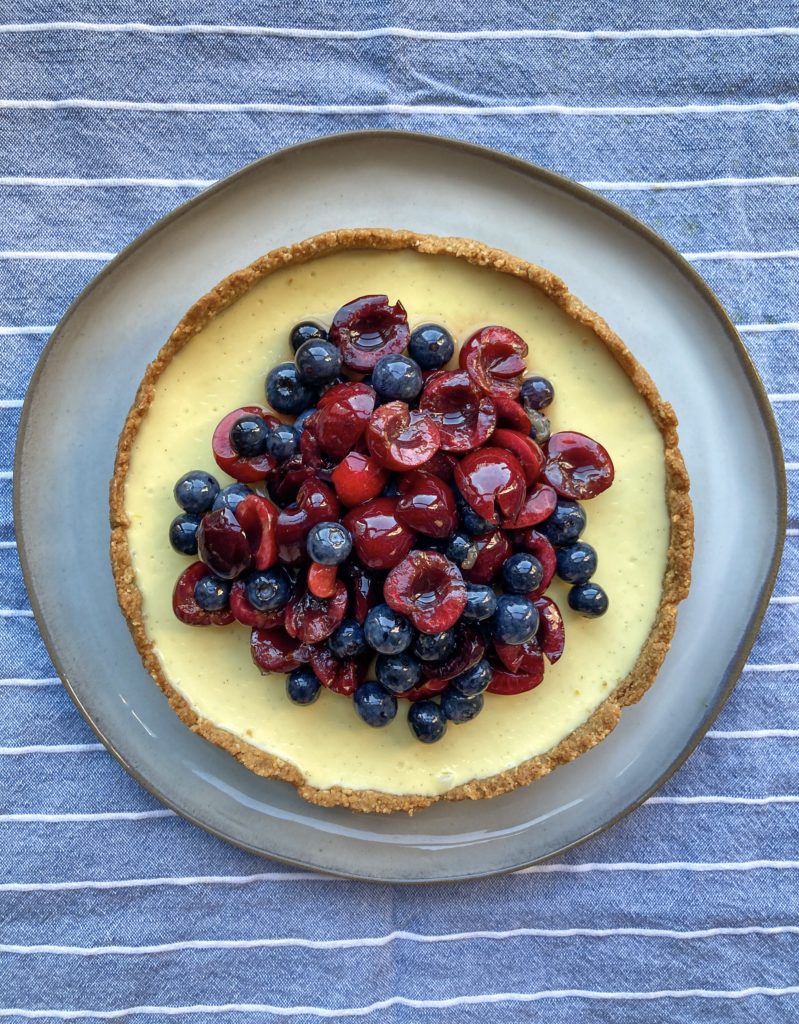 Rose is super trendy lately, and while I've typically kept this flavor and aromatic flower to my essential oils, candles and lotions, I was itching to try it in a dessert. While it's not uncommon in other cuisines, it's certainly not mainstream here in the states.
When my husband brought home homemade rose jam that is co-worker made (she's Bulgarian so I trust she knows her roses), I embraced the opportunity to apply this fun new ingredient in this Rose Berry and Goat Cheese Cheesecake.
For me, the floral and musty rose pairs so well with the funky, tangy goat cheese. Tempered by lemon, vanilla, and fresh berries, this dessert is just different enough to keep things interesting-but not over the top. No flavor screams in your face. Give it a shot – I know you'll find it interesting and delicious.
You can use any berry for the top, just choose some beautiful in-season ones. Cherries and organic blueberries were the prettiest ones for me, but I think strawberries, raspberries, blackberries, peaches, plums, nectarines….etc would all be wonderful compliments with the rose and the goat cheese. The cherries seem to enhance the goat-y profile, while the blueberries blended in the background.
I realize that rose jam is a little esoteric, so instead, I think adding a teaspoon or two of rose water to a high-quality jam would work just as well. Use a lighter color jam for lighter fruits, like apricot jam with peaches, while a darker jam like strawberry would work well with darker fruits. Warmed honey would be a great alternative to jam as well.
It is worth mentioning that this recipe is largely from Dessert Person by Claire Saffitz. I made a few modifications based on my tastes and experience with cheesecakes, and also tweaked the crust recipe a touch. Notes are below in the recipe. Her book is wonderful, so check it out as well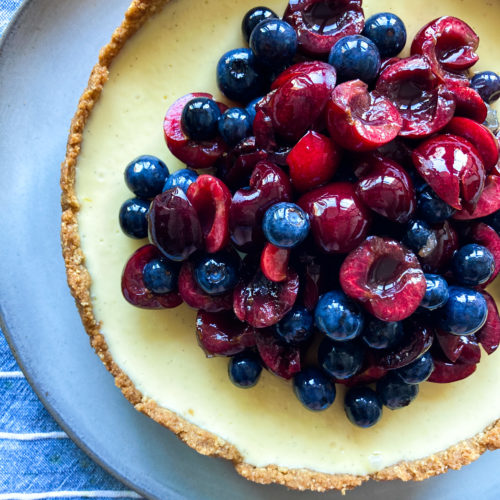 Rose Berry Goat Cheese Cheesecake
Tangy goat cheese, sweet berries and floral rose combine in this spin on a classic. This can be made ahead of time, up to 2 days. The crust can also be made up to 2 days ahead to speed the process. So, don't let the 10 hour prep time scare you – it includes 8 hours resting time. Recipe adapted from Claire Saffitz. Use any fresh and seasonal fruit for the topping, and any jam or liquid sweetener to taste, in place of the rose jam.
Ingredients
Graham Cracker Crust
170g

(1 sleeve, 9-10 sheets)

graham crackers

see note below

1

large egg yolk

2

TB

demerara or turbinado sugar

granulated would work too

1/4

tsp

sea salt

6

TB (85g)

unsalted butter

room temperature, cut into 1/2" pieces
Filling
10.5oz

(297g)

fresh goat cheese (chevre)

room temperature

8oz

(227g)

cream cheese

full fat

2/3

cup (130g)

granulated sugar

1/2

vanilla bean, seeds scraped

1-2 tsp vanilla extract works as well

1/2

cup

heavy cream, or milk

I used whole milk

4

large eggs

room temperature

1

TB

lemon zest

3

TB

fresh lemon juice
Berry Topping
2-3

cups

fruit of choice, chopped and pitted if necessary

3-4

TB

rose jam, heated to loosen

I strained the rose jam, since I didn't want the petals in the fruit mixture; instead of rose jam, use a few tsp of rose water mixed with another jam of choice, or even honey. Warm the jam, strain if desired, and add a few tsp of rose water.
Instructions
Make the Crust
Preheat oven to 350F with a rack in the center of the oven. If using a cake pan, line the entire interior with aluminum foil or parchment, using either one large sheet or two criss-crossed smaller sheets. Ensure the entire pan interior is covered for easiest removal of the cake later on, and that there is at least 1" of overhang above the pan sides for gripping to remove cake.

In a food processor, add the grahams and pulse to break. Add remaining ingredients and pulse to combine, until you have a medium-fine texture that holds together when squeezed.

To pat into the pan, start with about 1/2 of the crust crumbs and pat into an even layer in the bottom of the pan.

Add the remaining 1/2 of the crust crumbs to the pan along the sides/perimeter of the pan, and press about 1.5" up the sides. The top edge may not be perfect, and that is just fine. Using a small measure cup or flat bottomed glass, press the entire crust evenly into the pan one more time. There should be no holes or gaps.

Bake for 13-16 minutes (my oven took 16 minutes), or until the crust is golden. Allow to cool and proceed with the filling. You can put the hot crust pan into the fridge or freezer if you are impatient.
Filling
Pre-heat oven to 325F. Keep rack in center of oven.

Add cheeses to the bowl of a stand mixer fitted with a paddle attachment (or, use a hand mixer, and use a larger bowl). Beat for 2-3 minutes on medium to combine and loosen the cheeses. It is extremely important that the cheeses be room temperature to combine homogenously, and not have lumps or streaks.

Add the sugar, vanilla seeds or extract, and lemon zest. Mix on medium until combined, scraping down the bowl one time to get any ingredients on the bottom.

Add the milk or heavy cream, and mix until smooth again, scraping down the bowl.

Add the eggs and lemon juice and mix on medium-high until the ingredients are incorporated. Scrape the sides and bottom of the bowl to make sure everything is evenly mixed. This will take about 3 minutes. The filling will be smooth and everything will be evenly combined.

Pour the filling into the cooled crust, until the filling is about 1/8" from the top edge of the crust. Even out the top and release any trapped air bubbles by gently tapping on the counter. If any crust crumbs loosen into the filling, remove with a tip of a knife.
Prepare the Water Bath & Bake
Boil a large pot of water, or use an electric kettle to boil about 2 to 2.5 quarts of water. I like to have a pouring spout when making the water bath for easy pouring, so I use my electric kettle. Boiling water in the microwave in a large pyrex measuring cup works as well, but use caution when microwaving water.

Place the cheesecake inside of a roasting pan or larger pan that will fit the cheesecake. Place this into the oven, and then gently pour in the boiling water up to 1" to 1.5" up the sides of the pan. Take care when pulling oven racks in and out, as some are a little rough to push/pull, so as to not get water splashed in the cheesecake.

Bake the cheesecake for 30-35 minutes, until the edges appear just set and there is still a wobble in the center of the filling. Turn off oven, and partially open the oven door – about 6" or so. Allow the cheesecake to continue to cool in the oven, about 2 hours.

Transfer cheesecake to the fridge to finish cooling, at least 2 hours but up to 2 days ahead of time. Cover once cheesecake is completely cool if storing longer than a day in the fridge.

To remove the cheesecake, gently pull on the aluminum foil or parchment overhang. I find that putting the cake in the freezer for about 15 minutes firms the cake enough to help get it out easier, and to safely peel off the foil from the bottom without the cake breaking. Or, if using a springform pan, release the pan sides. Transfer to serving platter.
Fruit Topping
In a small saucepan, warm the jam (or honey or other sweetener if using). If there are lots of particulates in the jam, you can strain it while warm over the berries.

Add a teaspoon of rosewater, and mix until combined. Taste, and adjust rosewater if needed.

Scoop berries onto the top of the cheesecake, and arrange as desired.
Notes
Be sure the cheeses and the eggs are at room temperature before starting to mix the filling. Take these out of the fridge a couple of hours before making the recipe, or, if you forgot, place sealed ingredients and whole in-shell eggs in very warm tap water to help speed the warming.
For the graham cracker crust, I found that I only had about 150g in one packet of graham crackers. To get to 170g of cracker material, I processed 20g of rolled oats in my food processor to a medium-fine meal consistency, before adding the remaining ingredients. You can just add another few sheets of graham crackers, but I didn't want to open another package. 
You can also bake this in a 9″ springform pan, proceeding as written. I prefer to bake my cheesecakes in a cake pan, since I have always had issues with water leaks no matter how well I wrap the springform pan!