Recently, I've come to realize that I like to have heavy cream on hand at all times. Being from WI and being raised on a family dairy farm, I don't think this is an unreasonable life choice. And, there are few desserts that are not made better with a little dollop of perfectly, freshly whipped cream. Name one – I dare you. Because of my new life choice, I wanted a quick cake that would a) complement freshly whipped cream and b) use up a random 1/2 cup of almond meal I had in the freezer. I was flipping through my cookbooks, and Alison Roman's lemon cake stuck out to me. After my mods, we've arrived at this Preserved Lemon & Turmeric Cake.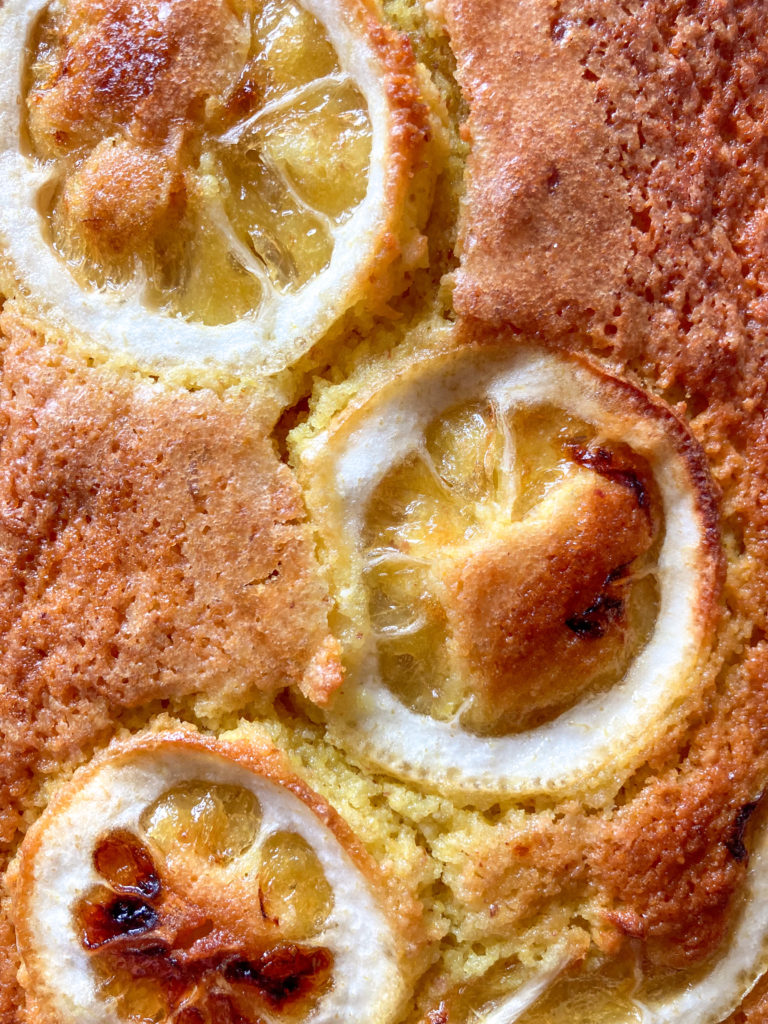 Now, there is nothing wrong with the recipe as Alison has written. I've not met a recipe that she's written that I haven't liked or hasn't turned out. I merely modified it to suit my taste. Namely, I added almond meal, I macerated the thin lemon slices before adding them to the top, and I used a bit of heavy cream in the batter. And, I also added some finely minced preserved lemon. I had wanted to try using some of my homemade preserved lemons in a cake for a while now, and was happy I did. If you haven't tried or made preserved lemons before, I highly recommend it – an easy and truly rewarding ingredient. That being said, fresh lemon juice would work as a sub. I appreciate the texture from the almond meal (I sometimes find loaf cakes a bit boring in texture), and also the added fat it provides. I think turmeric really benefits from fatty ingredients, so it all works.
As with most loaf cakes, this one is forgiving. You can omit the turmeric, use all-purpose flour in place of the almond, use lemon juice in place of the preserved lemon, use sour cream or full-fat yogurt, or use limes instead of lemons…it's all going to add up to a tasty cake.
Perfect for a gloomy early summer/late spring (June 1 is the meteorological first date of summer, but the solstice isn't until later in the month, but who is counting?), and I anticipate that cake will age really well. We'll see if we have any left to take to work to share on Monday. Oh, and do not forget to serve with whipped cream!
Preserved Lemon & Turmeric Cake
Makes 1 standard loaf cake
1 1/2 cups (215g) all-purpose flour (or, 100g almond flour and 115g all-purpose flour)
2 tsp baking powder
3/4 tsp ground turmeric
1/2 tsp fine sea salt (omit if using the preserved lemon)
Zest of 2 lemons
2 TB lemon juice or finely minced preserved lemon
1 cup (200g) plus 2 TB sugar
3/4 cup sour cream, plain yogurt or greek yogurt (tip: you can mix 1/2 cup lower-fat yogurt with 1/4 cup cream here, too)
2 large eggs
1/2 cup (1 stick, 115g) unsalted butter, melted
For the topping: 2 TB sugar and 6-8 VERY thinly sliced lemons; the lemon slices should be floppy and paper thin!
Preheat the oven to 350F. Grease loaf tin with butter or neutral oil and line with parchment.
Start by mixing the topping of thinly sliced lemon with 1 TB sugar. Allow to macerate as you move along with the recipe. Reserve the other 1 TB of sugar.
Sift dry ingredients (you can whisk to combine too but be aware that the turmeric can be clumpy, and you really want it to be evenly mixed in the batter)
In a medium bowl, add the sea salt (if using) preserved lemon, yogurt/sour cream, and eggs and mix to combine.
Add the wet mixture to the dry, and mix until just combined. Fold in the melted butter.
Pour into the prepared loaf tin, and smooth the batter. Top with the macerated lemon slices and any accumulated juices, and sprinkle the top of the lemons and cake batter with the remaining 1 TB of sugar (you can use less than 1 TB for topping if desired, the top won't get as crispy, though)
Bake for 50-60 minutes, until the top and lemon slices are deeply golden and a tester comes out clean.
Cool slightly in the baking tin, and then remove to allow to cool completely. Enjoy with whipped cream.