There have been a few olive oil & winter squash cake recipes of this sort circulating the internet since ca. 2015. I first encountered this recipe concept in Gjalina, a cookbook inspired by the cuisine of Venice, CA. I was flipping through the cookbook at an Airbnb that Denis and I stayed in for the holidays in 2018. I had remembered the cake several times, but never acted on actually making it. Fast forward to 2022, re-inspired by Yossy Arefi. I had been lazing about on a Saturday afternoon and caught an episode of Dessert People on YouTube with Claire Saffitz and Yossy, making an olive oil & winter squash cake that is featured in Yossy's book. I mentally scanned the ingredients and realized I had everything on hand, all I had to do is roast the butternut squash for the puree! Done.
Yossy uses canned pumpkin puree, which no shade against it (I totally used canned pumpkin puree for my pumpkin pies this Thanksgiving), I just happened to have half a butternut that needed to be roasted and used. I pureed the roasted squash and had to add about 2 TB of water to get it to a smooth consistency that wasn't a pain to scoop out of my blender (a food processor would work as well, or just smash the squash up thoroughly with a fork and elbow greast). Some squash is drier than others, so use your best judgement.
I went for it and used the glaze as well – something that I usually don't do since glaze isn't my favorite thing – but once in a while, when spiked with rich dark amber WI maple syrup and spicy extra virgin Spanish olive oil – I can deal with it! Sprinkled with flakey salt and roasted pepitas, the cake is a comforting treat. You can hoard the loaf for yourself since it keeps wonderfully for a few days at room temperature or in the fridge – improving with age. Or, share some festive cheer with family, friends or co-workers. We elected to share half and keep the other half!
Playing around with the spices and squash variety would be fun – as would be adding some dark chocolate. Use your favorite extra virgin olive oil as well (I love this one!). I followed Yossy's recipe to a "T", but next time, I'll veer off course – I'll likely throw in some dark chocolate and also dried ginger for a spicy kick. One spice that is not to be missed in at least one rendition is the ground cardamom – it complements the earthy squash in a lovely way.
Enjoy and stay cozy!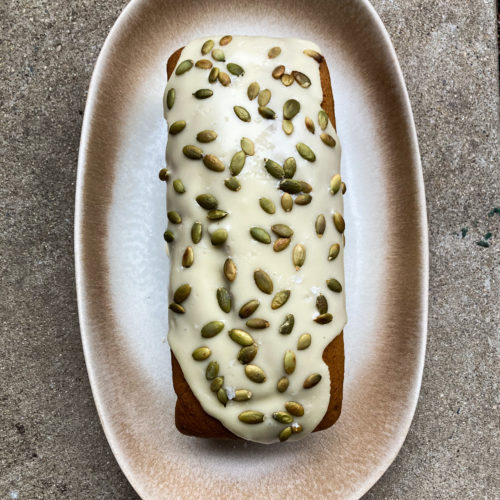 Olive Oil & Winter Squash Cake
Sweet squash, aromatic spices and a sweet-salty glaze punctuated with toasted pepitas is a comforting, and easy, "snacking" cake for the fall and winter season. This cake keeps well for a few days. Use you favorite extra virgin olive oil for a savory complement in the cake and icing. Use either canned pumpkin puree or homemade squash puree. Homemade squash puree can be made from any halved squash lightly drizzled with oil, then roasted at 400F on a sheet tray (seeds can be left in and scooped out after cooking for easier removal), until completely fork tender. Cool and puree, then proceed with recipe. Adapted from Yossy Arefi's snacking cake recipe.
Ingredients
Cake Batter
1 cup

(200g)

light brown sugar

2

large eggs

1/2 cup

high-quality olive oil

extra virgin is preferred, any variety

1 cup

(230g)

pumpkin or squash puree

butternut, buttercup and kabocha are great varieties for baked goods; the canned stuff works great, too.

1

tsp

ground cinnamon

1/2

tsp

ground cardamom

1/2

tsp

ground allspice

a few grinds of black pepper

1/4

tsp

fine sea salt

use 1/2 tsp if coarse sea salt

1 1/2 cups

(190g)

all-purpose flour

can use up to 1/2 cup alt four, like whole wheat or buckwheat

1

tsp

baking powder

1/2

tsp

baking soda

1/2 to 3/4

cup

chopped dark chocolate

optional
Maple Olive Oil Icing & Toppings
1 cup

(100g)

powdered sugar

sifted if very lumpy

2

TB

olive oil

use extra virgin for the best flavor

2

TB

maple syrup

1 to 2

TB

hot water

2

TB

toasted pepitas

few generous pinches flakey sea salt, like Maldon
Instructions
Prepare squash puree if necessary by roasting a halved squash, cut side down and seeds left in, with a bit of oil. Roast at 400F until completely fork tender. Allow to cool, then scrape out seeds and discard. Scrape out flesh and puree until smooth. Reserve extra and freeze, or make some soup! Puree can be prepared a few days ahead, and frozen if necessary.

Prepare a metal loaf tin with a sheet of parchment. Alternatively, lightly grease and flour. Set aside.

In a large bowl with a whisk, combine the brown sugar, eggs and olive oil. Whisk until the mixture becomes pale, about 3-4 minutes. Add squash puree and mix to combine. Add in the spices and sea salt.

Add the flour, baking powder and baking soda. Whisk briefly to just combine, then switch to a spatula to finish mixing, adding the chopped chocolate when you switch to the spatula, if using.

Pour batter into prepared loaf tin. Bake 45-55 minutes, until the loaf is just firm in the center and a tester comes out clean. Cool for 15 minutes in the loaf pan, then transfer to a cooling rack and completely cool.

Meanwhile, toast pepitas in the 350F oven for 10 minutes, or toast them on the stovetop. Do this while the cake bakes.

Prepare the icing as you wait for the cake to cool: combine all ingredients, and mix thoroughly. Adjust texture of icing by adding 1/2 tsp of water, until the icing just holds a ribbon when you lift your whisk out of the bowl. You want it to be semi-thick so it adheres to the cake, and not drip right off.

Once cool, pour the icing over the loaf, then sprinkle the toasted pepitas and pinches of sea salt on top of the still wet icing. Serve and enjoy! Store leftovers covered, or slice the loaf and store in a container. Can be kept at room temperature for 2-3 days, or in the fridge for up to 1 week.