Lately, breakfast has been….hard? Ever since moving at the end of December, into our house (!), things have been overwhelming for me (note table full of random shit, in a mostly empty front room/dining room). First thing in the morning is usually not a peaceful time in my head. So, taking one decision away – like what am I going to feed myself for breakfast – first thing even before I wake up, has been really great for me. Morning glory muffins were always on my radar but you don't see them that often – and I love the combo of textures and flavors these muffins deliver.
Now, I know many believe muffins are really just semi-healthy/re-branded cupcakes. I am not going to disagree, but I am also not going to let that stop me from enjoying muffins for breakfast or a snack. When I can pack in lots of great textures through fruits, veg and nuts, I'd say that's just as healthy as a bowl of granola.
I was inspired to make these by a can of crushed pineapple that had been with us since February 2020. It has moved to Illinois with us, and each time I'd pack/un-pack it, I'd remember my sister and I having great plans to make carrot cake when she was visiting in February 2020. Well, that never happened – but I'm glad the morning glory muffins did. The recipe is one of have tucked away, when the craving strikes.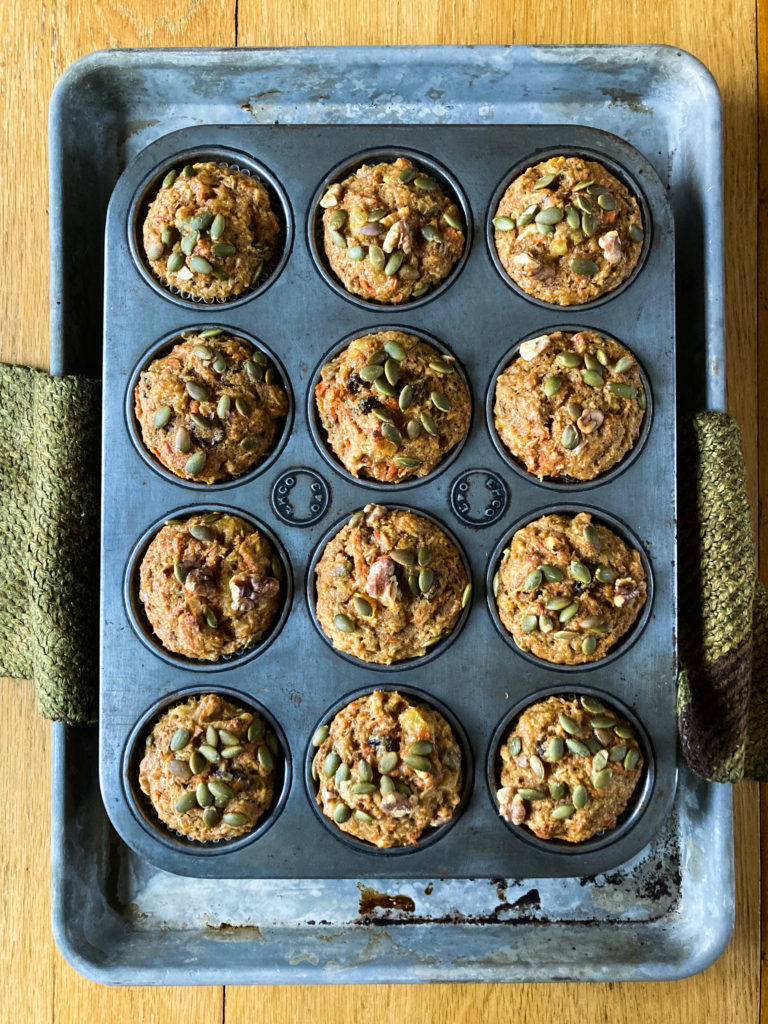 For these, I found that re-heating them before eating was best. They are very moist, so be sure to bake thoroughly. If you simply cannot muster making muffins or don't have muffin tins, bake in a 8×8″ pan for about 30-40 minutes, until golden, fragrant and a tester comes out clean. I baked them in a muffin tin – this particular one is from my grandma – and I love to think of all the muffins she may have made in this! The spices – ginger, nutmeg, allspice, cinnamon – are not to be missed. Their tropical vibes merry so well with the coconut and pineapple. And lastly, if you don't have canned pineapple languishing in your pantry, you can sub it with more grated apple. I love pepitas, so sprinkling toasted ones on top for crunch was perfect. I think these would be awesome with toasted pecans, in place of walnuts, too.
Happy Sunday, happy baking!
Morning Glory Muffins
Full of carrot, apple, pineapple, coconut, whole wheat flour and spices! A perfect any-season breakfast or snack muffin. Adapted from Smitten Kitchen.
Ingredients
2

TB

Raw Pepitas

For Topping

1/2 cup

Raw Walnuts

1 cup

(145g)

Grated Carrot

about 1 large carrot

1 cup

(115g)

Grated Apple

about 1 small/medium apple

1/2 cup

(80g)

Well Drained Crushed Pineapple

or, more grated apple!

1/3 cup

(80g)

Dried Unsweetened Shredded Coconut

1/4 cup

Raisins

other dried fruit, like currants or chopped dates, work as well

Zest of 1 large orange

optional but recommended

2/3 cup

Neutral oil

Avocado, sunflower, etc.

2

Large Eggs

2/3 cup

(130g)

Sugar

I used 65g each brown and white, but could stand to reduce this to 1/2 cup next time

3/4

tsp

Fine sea salt

1/2

tsp

Cinnamon

1/2

tsp

Ground Ginger

1/4

tsp

Freshly Grated Nutmeg

1/4

tsp

Allspice

1 1/2

tsp

Baking Powder

1/2

tsp

Baking Soda

1 1/4 cup

(160g)

Flour

I used 80g each AP Flour and Whole Wheat
Instructions
Preheat oven to 350F. Put pepitas and walnuts on a baking sheet. Toast for 10 minutes, set aside to cool. Prepare standard muffin tin by lining 12 cups with liners. Set on baking sheet and set aside.

Combine the grated carrot and apple, pineapple, coconut, raisins, orange zest, oil, eggs, sugar, salt and spices in a medium bowl. Whisk thoroughly to combine.

In a large bowl, sift or whisk the baking powder, baking soda and flour.

Add the wet mixture to the dry mixture, whisking briefly to just combine. Switch to a spatula, add the toasted walnuts, and fold to finish mixing. Be sure to mix all dry floury patches into batter.

Scoop about 2.5oz into each muffin cup – the batter will dome over the muffin tin by about 1/2". Top with toasted pepitas.

Bake for 25-30 minutes, until golden and firm. A tester will come out clean. These are quite moist muffins, so be sure to bake through. Allow to cool in tins for 10 minutes, then remove from tins onto cooling rack. Cool completely, and store in a container or bag in the fridge for up to 1 week, or freezer for up to 2 months. Re-heat in a 350F oven until warm or microwave for 15-30 seconds.