October is here, with cool mornings and evenings and still weirdly hot days. I am loving the gradual change to fall, and am thinking it is almost time to get out the boots and sweaters — but not before we bake some classic pumpkin pie!
I jumped soon into the pumpkin spice party, in August. I know – it just happened! Most years, I am staunchly resistant, only giving into the warm-spice medley in October. With my jump-start, I thought it'd be great to take a stab at almost perfecting my classic pumpkin pie.

I have been playing with my classic pumpkin pie recipe for a few years: adding sour cream, not blind baking the crust, trying new spice blends, etc. But, in the end, a riff on my grandma's tried-and-true classic along with my go-to pastry from Stella Parks, and a baking method that has served me quite well from Deb over at Smitten Kitchen, is my go-to.

Pumpkin pie is really quite simple, as long as you get some key elements correct. I tried to capture as much as possible for a fail-safe method in the recipe below (which is why it is quite long!) — but as with all baking, sometimes it just takes some practice, and some of your own kitchen magic. For me, some key steps are to properly blind-bake the crust (I found docking it twice helped prevent it from shrinking), not over-do it with the spices (especially the clove!), to get the moisture balance correct in the filling (not too firm….needs to be tender, but not soupy), and to bake it to perfection (still having that wobbly character in the middle at the end of bake is perfect!).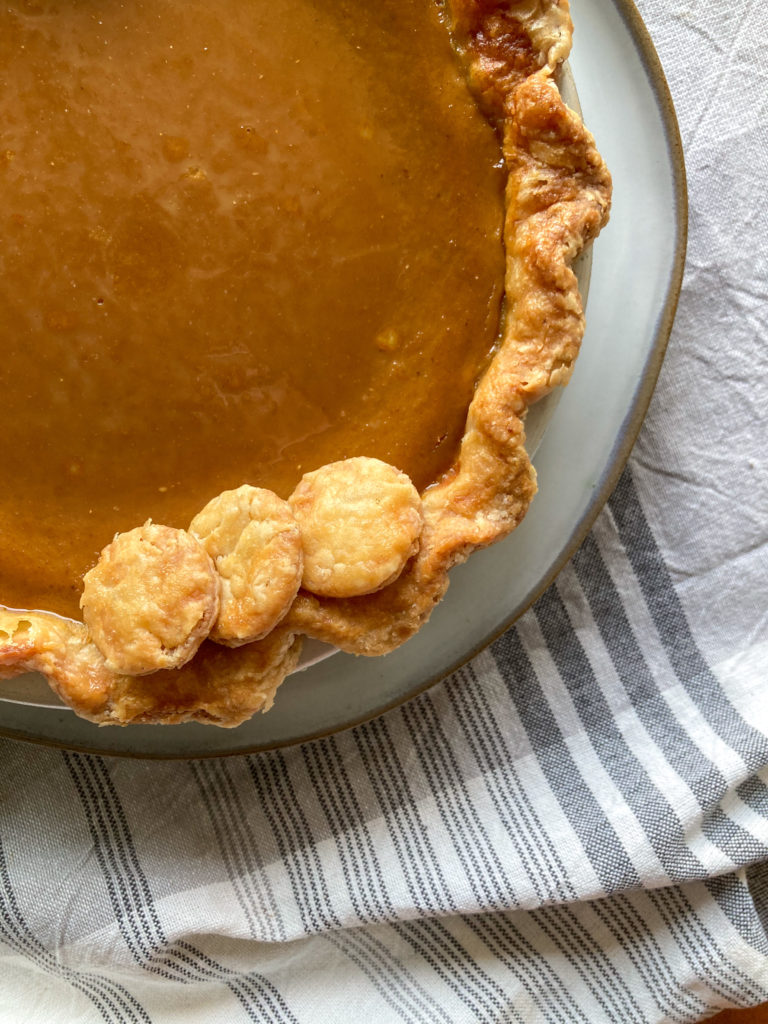 I love to eat chilled pumpkin pie with freshly whipped cream. You just can't beat the creamy foil to the rich, spicy pumpkin custard. I added vanilla and bourbon to my whipped cream, and was really tickled with the results. Also, it makes a tasty breakfast treat, since you know – the main ingredient in the filling is squash*!
I hope to make more of my classic pumpkin pie this season, and I hope you have the opportunity to do so as well! I'm gearing up for my next baking project – maybe apple pie next? As with most of the baked goods around here, the extras get taken to work, since it makes me happy to share home-baked goodness with others. It is a simple act that means so much, more so as the days shorten and cool.
Happy (almost) Fall!
*a little note here, to say that for pumpkin pie, I think using canned pumpkin puree is 100% perfect. I know this is a hot topic, and if you really want to make your own puree, go for it! I recommend using a squash you love to eat. For me, that is butternut or a luxury pie pumpkin. Just know that if you use your own pumpkin/squash puree, the moisture balance in the recipe may be off, since canned pumpkin (squash) is likely extremely consistent in moisture content from year-to-year, and likely brand-to-brand. In order to safely process foods, the FDA requires a "filed process" that has critical parameters – one of those being viscosity and moisture content. Changing these would require new studies to verify lethality, and to establish a new filed process. This, speaking from my retorted beverage days, takes *a lot* of time and $$. So, I guarantee you that manufacturers of pumpkin puree will standardize using moisture to ensure year-to-year consistency for commercial sterility.
Classic Pumpkin Pie with Vanilla-Bourbon Whipped Cream
A classic custard-based pumpkin pie with an all-butter pie crust! Perfectly spiced with cinnamon, nutmeg and ginger, this pumpkin pie is my go-to as the season cools down and the holiday baking begins. The custard filling is adapted from my grandma's recipe, with inspiration from Food52's Genius Recipes, the all-butter pie pastry is lightly adapted from Stella Park's recipe found in Bravetart. Prepare the pie pastry a few days ahead, to expedite the process! Top with vanilla-bourbon whipped cream for the ultimate cozy autumn dessert!
Ingredients
All Butter Pie Pastry
1 1/3 cup

(4 oz)

All Purpose Flour

1/4

tsp

Fine Sea Salt

1/2

TB

sugar

1/2 cup

(1 stick)

unsalted butter

cut into 1/2" pieces, chilled

1/4 cup

ice water

Additional flour, for rolling pastry
Pumpkin Custard & Baking the Pie
1 3/4 cup

(425g)

pumpkin puree

this is equal to 1 15oz can of pumpkin puree (NOT pumpkin pie filling)

1/3 cup

(74g)

granulated sugar

1/3 cup

(74g)

light brown sugar

3

large eggs

1/2

tsp

fine sea salt

1 1/2

tsp

cinnamon

Ceylon and Saigon are great here

1/2

tsp

ground dried ginger

1/8

tsp

ground cloves

a little goes a long way!

1/4

tsp

freshly grated nutmeg

1

cup

half and half
Vanilla-Bourbon Whipped Cream
1/2

cup

heavy whipping cream, well chilled

2

tsp

granulated sugar

maple syrup can also be used

2

tsp

vanilla-infused bourbon, or 1 tsp vanilla extract and 1 tsp bourbon

optional, but recommended!
Instructions
All Butter Pie Pastry
In a medium bowl, mix the flour, salt and sugar using a fork.

Add the cold butter pieces, toss to coat in flour, then using your fingers, squeeze each piece to flatten it. Mix briefly after to break up some of the pieces into 1/3" to 1/4" pieces.

Place mixture in freezer for 5 minutes. Prepare ice water.

Remove dry mixture from freezer. Add 1 TB of water at a time, sprinkling it over the surface of the flour-butter mixture. Using a fork, gently mix to start to combine. The mixture will be crumbly, but keep stirring with the fork until a shaggy mess comes together. If the mixture seems super dry, you can add a few more teaspoons (tsp) of iced water, mixing briefly to combine the majority of the dry bits.

On a floured surface, turn out the shaggy mess, and using your hands, bring the mass together. If the butter seems to be melting, put the mass back into the bowl, and put back into the freezer for 5 minutes.

Once the dough roughly comes together, use a floured rolling pin to roll into a rough 8" square. Fold 1/3 of the square to the center portion of dough, and then fold the other 1/3 over the dough (you should have 3 total layers of dough on top of each other). Place dough in plastic wrap, and wrap. Gently coax dough into a circle, and place in the fridge for at least 2 hours (ideally 8). Dough can be kept in fridge for a few days, or in the freezer for a few months. See below for details.
Roll & Blind Bake The Pie Pastry
If frozen, un-thaw pastry overnight in the fridge. If refrigerated, allow pastry to sit at room temperature for about 5 minutes, just to start to soften for pliability.

On a floured surface using a floured rolling pin, begin to coax the dough into a flatter disc by pounding it gently with the floured rolling pin, rotating the dough disc to maintain a round shape.

Add additional flour to the counter surface and the rolling pin as needed. Begin to roll the pastry into a 11"-12" diameter round. Roll from the center of the dough, away from you. Pick up and rotate the dough every 2-3 rolls, adding more flour to keep the dough from sticking, and to ensure even thickness.

Once you have a 11" to 12" diameter round, gently roll the pastry onto the pin (or fold it into quarters), and place into a 9" pie tin. As you place it, take care to not stretch the dough, and center it as much as you can to have a 1 to 1 1/2" overhang all around the edge of the pie tin.

Gently lift the edge of the dough, and fit into the edge of the tin, taking care again to not stretch or press the dough too tightly.

Trim the outer edge of the dough to 1" to 1 1/2", using extra dough to patch around the edges as needed. I find using a bit of water to help patch this overhang is helpful. At any time, if the dough feels greasy or warm, place in the freezer for 5 minutes to cool.

Fold the 1" to 1 1/2" overhang under the pastry on the edge of the tin, making an even-thickness layer all around the pie tin. Crimp the edge as desired: I use my pointer and middle finger knuckles on the inside, and gently poke my pointer finger in the space between to make a wavy pattern.

Dock or poke holes with a fork all over the sides and bottom of the pie pastry, cover with plastic wrap or put in a large bag, and place in the fridge for at least 1 hour, up to a few days. The pastry needs to be chilled prior to blind baking to prevent shrinking. I recommend docking pastry now, when the dough is slightly warmer, versus after it has chilled and firmed. Be sure to poke the holes deep enough so that they are effective steam vents during blind baking.

Pre-heat oven to 400F with a rack in the lower 1/3 of the oven. Line a half sheet pan with parchment. Place chilled pie pastry on pan, and line with aluminum foil, taking care to get the foil flush with the edges and bottom of the pastry. Fill pastry with sugar, beans or pie weights.

Bake weighted pastry for 20 minutes. Afte 20 minutes, gently remove the aluminum foil with weights. Re-dock the pastry with a fork, to allow for steam to escape during the next step.

Place pastry back into the oven, and bake for an additional 10-15 minutes. Check after 5, and if the pastry is puffing in the center or sides, remove and re-dock the crust. This is important, because puffing will cause the sides of the pastry to collapse. Bake until the crust is an even golden brown. The sides and bottom of the crust will not bake significantly when the pumpkin custard is in, so be sure to blind bake to a golden brown color.

Remove from oven, and allow to cool as you prepare the filling. Crust can also be blind baked up to 1 day ahead of time. Cover the crust or place in a bag if doing so.
Prepare Pumpkin Custard Filling & Bake the Pie
Pre-heat oven to 375F, with a rack in the lower 1/3 of the oven (same as when the crust was blind-baked).

Combine pumpkin puree, sugars, eggs, salt and spices, and whisk vigorously to thoroughly combine. Add in the half-and-half, and mix again to combine.

Place blind-baked crust on a parchment-lined half sheet pan. Pour in filling. Gently tap the pin tin on the counter, to get air-bubbles out of the filling.

If desired, to prevent the outer crust from burning, you can tent this portion of the crust with aluminum foil.

Gently transfer pie to the oven. Bake at 375F for 25 minutes, then reduce oven temperature to 350F, and bake for an additional 20-25 minutes. The pie is done when the center still looks jiggly and moist, while the edges of the filling look opaque and are slightly puffed.

Remove from oven, and place on a cooling rack in a non-drafty area to cool for at least 1 hour, or cool to the touch. Refrigerate if needed once completely cool, covering to prevent the filling from drying out. Store leftovers in the fridge for up to 3 days. Pie can be enjoyed chilled or at room temperature. Serve with or without whipped cream!
Vanilla-Bourbon Whipped Cream
In the bowl of a stand mixer fitted with a whisk attachment, or using a hand mixer OR a balloon whisk and some elbow grease, add the cream and whip for 1 minute on medium-high. Add sugar and vanilla-bourbon. Whip on medium-high until soft peaks form. Serve immediately, or place in a container, and refrigerate for up to 2 days. Re-whip gently if needed, using a small whisk or fork.
Notes
You may double the recipe for the pie pastry, and divide the dough into two equal portions for a future pie, or for a double-crust pie! Just be sure the portions are approximately equal, otherwise you may run into issues with having too much or too little pastry to fit the tin, or the top of a pie.
Pie pastry lasts for a few months, tightly wrapped in plastic wrap and sealed in a freezer-safe plastic bag. You can prepare the pie pastry a few days ahead of time, wrap well, and leave in the fridge.