So here we are – once again! I am back at it, baking black raspberry-browned butter financiers. If you have followed along my Dirty Sifter adventures, I hope you're in for another journey. Why the change? I created the Dirty Sifter during a time in my life that felt uncertain. My goal is clear now: I love pastry arts and baking. I do not like labels, nor do I like most of the shade that our modern food system, and food professionals, receive. Since I am a part of that food system (we all are, actually), I am here to celebrate food and appreciate it in the best ways I can. I hope you will join me, and find pleasure in this space.
"Never let anyone dull your sparkle."

-Marilyn Monroe
So now, A Pastry Lush!
I want to create luxury for every-day life. For me, that means deliciously crafted baked goods. Enjoy alone, with friends, with family – whatever. Seek the joy, even in the small moments!
Black Raspberry-Browned Butter Financiers. . .little nuggets of golden joy!
Financiers are meant to bring a little ingot of buttery joy into life. One origin-story is that financiers were purchased by those employed in the financial sector of Paris (some say Switzerland, too). Some also say that financiers would be stored in the pockets of these folks, so these nuggets of buttery-rich cake could be enjoyed throughout their workday. Another origin story is that the rectangular molds used to bake financiers produced cakes that resembled gold bars or ingots. This sounds more reasonable – but I am a fan of the pocket-cake theory.
Joy surrounds us – it may not seem like it (especially as of late), but we have so many reasons to be grateful and in awe. Step outside – look in places you haven't before. I did this, and stumbled upon a thriving patch of blackcaps (aka: black raspberries) near our apartment. I felt a surge of joy as I plucked one from the cane, remembering how, when we were little, we would suit-up to help my grandma pick her fill of blackcaps (what she calls black raspberries) and raspberries. Enduring buzzing mosquitos, raging midwestern heat and humidity, we knew the prize in the end – macerated blackcaps over ice cream. The process was hard, but the ending sweet and worth it. I think we can all relate to this. I am celebrating the memory with black raspberry-browned butter financiers.
The journey is important in baking and in life.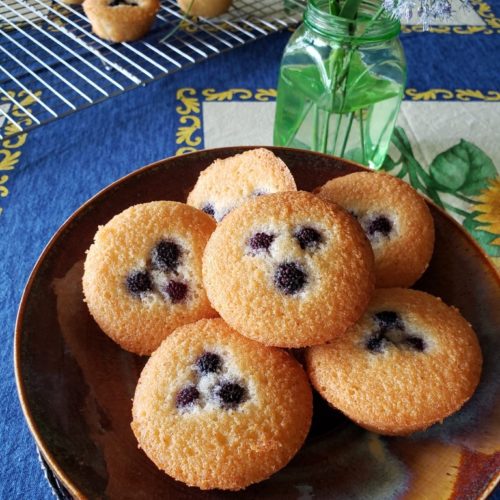 Black Raspberry-Browned Butter Financiers
Buttery, golden, berry-topped cakes are quick to mix up, and even easier to snack on. Enjoy!
Equipment
Standard Muffin Tin

Medium Saucepan

Kitchen Aid Mixer, Hand Mixer, or Large Balloon Whisk

Rubber Spatula

Sifter

Large Mixing Bowl

Measuring Cups

Pastry Brush

Measuring Spoons

Small Offset Spatula or Butter Knife

Small Knife

Cooling Rack
Ingredients
1/2 (113 grams)

Cup

Unsalted Butter

(plus 1 TB for greasing the muffin tin)

4

Large Egg Whites

3/4 (150 grams)

Cup

Sugar

1/2 (50 grams)

Cup

Almond Flour

1/3 (50 grams)

Cup

All Purpose Flour

1/8

tsp

Sea Salt

1/4

tsp

Almond Extract

(Optional)

1/2

tsp

Vanilla Extract

(Optional)

3/4

Cup

Black Raspberries

(Any berry – cut in half or quarters if large)
Instructions
Prepare the Browned Butter & Grease Muffin Tins
Brown the butter: place 113g (½ cup, 1 stick) of butter in a medium pan. Heat over medium, stirring gently to prevent burning. Cook over medium until milk solids start to brown, and the butter smells nutty. This will take 5-10 minutes depending on your butter, surface area of your pan and how hot you heat. Take caution to not burn the butter – the milk solids should be a dark chestnut brown, not black.

When browned, pour the browned butter into a bowl to help cool it down a bit, and set aside. Melt the additional 1 TB of butter, the use a pastry brush to grease the muffin tin.
Prepare the Financier Batter
Pre-heat oven to 375F, with a rack in the middle position.

In the bowl of a stand mixer fitted with a whisk attachment, add the egg whites. Or, you may also use a hand mixer or large balloon whisk (plus some elbow grease!) and a medium-large bowl that is more deep rather than wide to help the folding process later on.

In a separate medium bowl, whisk together the sugar, almond meal, all purpose flour and sea salt. Set aside.

Whip the egg whites on medium-high for 1-2 minutes, until fluffy (speed 6, 2 minutes on my Kitchen Aid) OR you may do this by hand or with a hand-style mixer. The goal is medium-soft peaks that hold their shape but are not dry and brittle (over-beaten).

Immediately sprinkle ⅓ of the dry mixture over the beaten egg whites, and gently fold in with a large spatula. Continue until you've added the remaining dry mixture.

Add the slightly cooled browned butter, and fold in until the mixture is combined – do not over-mix.

Using a spoon or cookie scoop, divide the batter in the muffin tins. The tins will be about 2/3 of the way full, depending on how much air your batter has retained after folding. The cakes are meant to be small – so you may get more out of your batter than 12.

Top each with the berries, using only a few per financier – using too many will result in too much juices oozing out and a soggy financier.

Bake for about 20 minutes, until the tops are golden brown. Test with a knife or toothpick – plunging into the center of one – checking to make sure it comes out clean.

Remove from the oven, and allow to cool in the tins for 10 minutes. Using a small off-set spatula or thin butter knife, remove the financiers and place on a cooling rack to finish cooling.

Enjoy plain, with a sprinkle of confectioners sugar, or however you'd like! Best the day they are made, but still very edible a few days after. Store in an air-tight container at room temp or in the fridge.
Notes
As noted, any berry could work here – just ensure you cut them in smaller pieces if they are on the larger size. Larger pieces will exude more water, resulting in a soggy, un-browned financier top.  This is a great recipe to use any extra egg whites you may have. If frozen, thaw overnight in the fridge or in a bowl of room temperature water for a few hours. The white of 1 large egg is approximately 30 grams.