Leaves are turning golden, there is a crisp in the air, and apples are everywhere! It's crisp season for sure. I think crisp may be one of the coziest desserts – it's easy to make and is easy to enjoy, too. It's a perfect use of sub-par fruit, and the biggest challenge in the whole thing is peeling the apples (if you want to).
Apple crisp is firmly planted in my brain as a grandma treat. I associate apples, especially Macintosh, with my grandma. Her garage always smelled, to me, like an over-ripe Macintosh apple. I remember in the fall, there would be bushels of apples in the garage – and I usually swiped one to eat. The crisp skin with the white, tart interior – that was fall.
There are lots of crisp recipes out there – so here is just one more. It's the one my mom uses, and is from the Farm Journal Cookbook (a very old school cookbook – highly recommend!). It's perfect with fresh cranberries, to provide tart little bursts of flavor alongside the sweet topping and apples. Try to use firm, tart to semi-tart apples – if they are too sweet, it can take the balance to the too sweet side of things. If you're a fan of apple skins (they do really contribute lots of flavor, IMO), no need to peel – but that's a highly personal decision.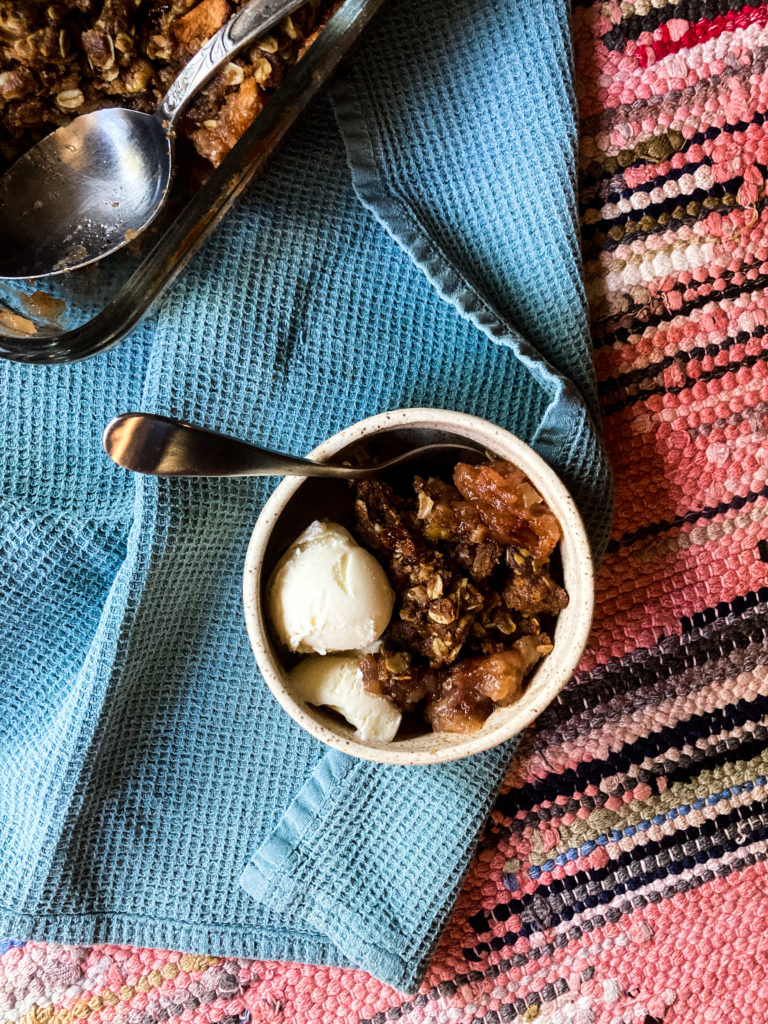 Enjoy warm, with vanilla ice cream, or with whipped cream. I am also a fan of leftover crisp, eaten with plain Greek yogurt. Enjoy!
Apple Crisp
A classic autumn recipe! Make with sweet-tart and firm apples, and optionally mix in fresh or dried cranberries for a tangy option. Enjoy with whipped cream, vanilla ice cream or with yogurt. Filling can be mixed 1 day in advance, and allowed to macerate in the fridge.
Ingredients
Filling
5

cups

Apples

Peel, core and cut into 1/2" chunks; can also use up to 2 cups fresh (frozen) cranberries or 1 cup sweetened dried cranberries – use a total of 5 cups fruit

1/2

cup

Sugar

Can use up to 3/4 cup for tart apples or if using fresh (frozen) cranberries – sweetness if personal preference

1

tsp

Cinnamon

1/4

tsp

Freshly Grated Nutmeg

1/4

tsp

Fine Sea Salt

1-3

tsp

Vanilla Extract or Bourbon or Brandy

Dealer's choice – I use vanilla infused bourbon

2

TB

Flour

Can also use tapioca starch or corn starch

1/2

tsp

Orange or Lemon Zest

Optional; Orange is nice with cranberries
Crisp Topping
4

oz

or 1 stick (113g) unsalted butter, melted

1

cup

Rolled Oats

Not quick cooking

1/2

cup

Flour

Can use up to 1/2 cup alternative flour, like teff or buckwheat if desired

1/2

cup

Brown Sugar

1/8

tsp

Baking Powder

Optional, gives the topping a bit more lift

1/2

cup

Chopped Pecans or Walnuts

Optional
Instructions
Combine all ingredients in a large bowl, and mix. If desired, cover and refrigerate overnight. Or, you can mix in a 8"x8" glass baking dish, to eliminate a bowl. If baking day-of, pre-heat oven to 350F.

Combine the topping ingredients in a bowl, taking care to not over-mix – otherwise the topping will be too doughy. If the topping is really soft, refrigerate for 10-15 minutes.

Add fruit filling, plus all the juices that have accumulated if you've mixed ahead of time, into the baking dish. Crumble the topping over the top, making use your crumble pieces aren't too large.

Place crisp on a lined baking sheet, and bake on the middle rack for 45-55 minutes. Check 30 minutes in, and tent with foil if the crisp topping is getting too brown. Crisp is done when the filling is bubbling gently in the middle and the topping is golden brown.

Allow to cool slightly, and serve. Leftovers keep for a few days, covered in the fridge or at room temperature.