"Tulip and daffodil season seems to bring on angel food and sponge cakes. We give you updated recipes for these gorgeous and delicately sweet cakes. And they also use packaged angel food cake mixes with great success. Be sure to try our toppings that glamorize angel food cakes even when you make yours from a mix. Give a farm woman a big angel food cake and watch what happens. Without a fairy's wand, she transforms it into a spectacular dessert. And what a variety of flavors she can add – peach, lemon, mocha and pineapple are classics. The hostess prides herself on tricks to use when she wants to dress up an angel food cake especially for company. Here are recipes for some special sauces culled from the files in Farm Journal Test Kitchen and from farm hostesses"
The above expert from The Farm Journal's Country Cookbook (circa 1959!) makes me smile and totally reminds me of my grandma. She indeed was a farm hostess – and for the spring and summer babies, she always made us an angel food cake. It was iced with lemon icing, and typically with sprinkles of dubious expiration date. She would serve the cake with macerated strawberries (sliced, and one of her tricks was to use frozen sliced berries), and big scoops of vanilla ice cream – you know, the ice cream from Schoeps or other "bucket" ice cream. She'd of course save and re-use the plastic buckets for years to come, for berry picking, storing raisin filled cookies, etc etc.
This is the first birthday of mine without my grandma with us, and this realization dawned on me on my drive home from work last week. Needless to say, I teared up. My grandma was *on it* with birthday cards – she never missed a beat with getting them into the mail OR to someone to deliver it to you. The $10 to $20 she stuffed in the card was always appreciated – she knew that cake and cash (ok, and the occasional piece of depression glass from her collection) was the best gift.
I cannot emphasize enough how nostalgic and special this combination is for me. So much so, I splurged this year, and bought myself a new Fat Daddio's 10″ tub pan. Because you know, this cake is a tradition, so it'll get good use for years to come. Fat Daddio's pans truly are the best I've used! However, thrift stores always have several tube pans, so purchasing a used on is an option as well – just make sure it is NOT non-stick.
This recipe is directly from the Farm Journal's Country Cookbook, lovingly photocopied from my mom. It's a classic recipe, and I added in flour and sugar weights because….they are more accurate. When prepping the pan, do not grease it – this will prevent the cake form rising in the pan as it bakes. If you do not have a removeable bottom tube pan, I like to cut a circle of parchment for extra release insurance, but go ahead and live on the wild side if you want.
Cooling the cake upside down (on a glass Heinz ketchup bottle like my grandma did) is traditional, but I am not sure if it really makes a difference. I do it, because what other cake can you cool upside down? It's one of those quirky things about it that I love.
Tradition in my family is to serve slices of the cake in a bowl, with really juicy macerated strawberries and a scoop of vanilla ice cream, but the cake is tasty all on it's own. The lemon icing on top adds a nice zing and crunch, but again, optional.
Happy summer, fellow spring and summer birthday folks!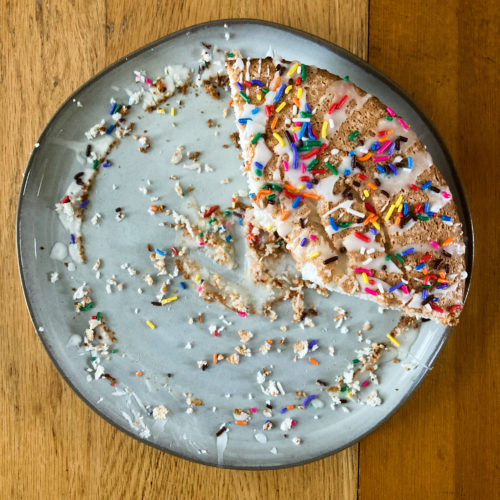 Angel Food Cake
A classic feather-light cake, straight from The Farm Journal Cookbook. Icing & sprinkles are highly encouraged, as are vanilla ice cream and macerated strawberries.
Ingredients
1 1/4 cup

(169g)

Cake Flour

1 3/4 cup

(350g)

Sugar

Divided into 1 cup (200g) and 3/4 cup (150g) portions

1 1/2 cups

Egg Whites

Room Temp

1 1/2 tsp

Cream of Tartar

1/4 tsp

Fine Sea Salt

1 tsp

Vanilla Extract
Instructions
Preheat oven to 375F, with a rack in the center of the oven. If using a tub pan without removeable bottom, cut a piece of circular parchment to fit the bottom of the pan.

In a large bowl, sift the cake flour and 150g of sugar together. Repeat one more time, for a total of two siftings. Set aside.

In the bowl of a stand mixer or a large bowl to accomodate a hand beater, beat the egg whites and cream of tartar on medium until foamy. Then add the 200g of sugar, 2 TB at a time, until a soft meringue forms. Beat the meringue on high to stiff, but not dry, peaks. If you beat too much, a dry meringue will make folding the flour/sugar mixture in difficult.

Add the vanilla, and then stop beating.

Sprinkle 1/3 of the sifted flour/sugar over the meringue, and fold until combined, working swiftly and confidently. Repeat with another 1/3, and then the last 1/3.

Gently pour the batter into the tube pan. Level the batter out, and then run a butter knife or offset spatula through the middle circumference to eliminate any large air bubbles. Run your thumb around the outer edge of the cake batter.

Bake for 35-40 minutes, until the cake is golden brown and firm-springy to the touch. Remove from the oven, and cool upside down. The cake won't fall out, so don't worry!

Once completely cool, run a offset spatula around the outer and inner portion of the tube pan, and release the cake onto the desired serving platter.

To ice, mix powdered sugar and lemon juice to a drizzling consistency. Pour over cake. Shower over sprinkles. Cake will keep well-wrapped at room temperature for up to 4-5 days.