It's officially cookie season! Holiday cookie season, to be exact. For me, and my family, there is a strong cookie presence around the holidays. Almond & anise biscotti are a stalwart of the holiday season for me. The hallmark holiday cookie is my great grandma's butter cookies (rolled, smooshed with fingers, topped with half of a maraschino cherry). My take on this cookie is the sable, since butter cookies just aren't the same if I don't make them with my mom (and thanks to covid as well as living 50 to 100 miles away from my parents, some seasons I do not get to make them with her).
Jam thumbprints (made with strawberry jam, best when they were made with my grandma's strawberry jam!), gingersnaps (Alice Medrich has the BEST recipe), pfeffernusse, sugar cookies (my aunt makes the best – fond memories of us as kids decorating cut-out cookies with her amazing buttercream and ALL the sprinkles!), chocolate crinkle cookies and biscotti are some of the classics that show up around the holidays here.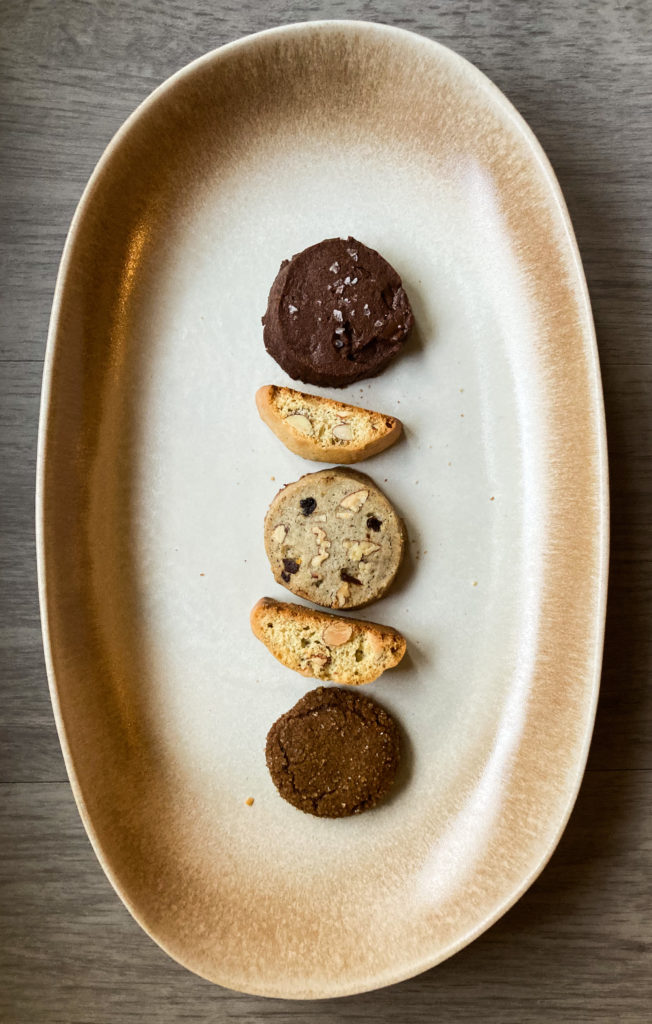 It's no secret that anise is a polarizing flavor, but one that I love. I remember as a kid, nibbling on almond & anise biscotti around the holidays after my aunt would drop off a container of them. I loved how the anise seeds would burst into a black-licorice flavor explosion – a bracing flavor, signaling that the holidays had arrived. If you're not into anise, you can omit or check out my other biscotti recipe: fig, almond & cornmeal.
This year, I made a few batches of my favorite sables, along with a batch of this biscotti, and my favorite ginger snaps. The beauty of all of these recipes is that they can be made well in advance. The biscotti can be baked and frozen – the cookies retain flavor and texture beautifully. The gingersnaps and the sables are frozen in already sugar-rolled balls and logs, ready to bake as needed.
This year, my sable flavors were buckwheat-pecan-cherry and double-chocolate sea salt. The recipe is here, and is easily customizable. Substitute up to 1/2 cup of the AP flour with any alt flour (buckwheat! teff! whole wheat!), or 1/4 cup of your favorite cocoa powder. Add in extracts, citrus zest, toasted nuts and seeds, chopped chocolate, dried fruits….the sky is the limit. Or, just keep in simple, and stick to the plain recipe.
Make a batch or two, and share as needed throughout the holiday season!
Almond & Anise Biscotti
Perhaps the most classic biscotti flavor combo, these are truly addictive to nibble on with coffee or espresso. This is my aunt's recipe, and has been a family favorite for many years. This recipe can easily be doubled, just note that you will need to bake the logs in two batches. Batter should be prepared at least 4 hours ahead, to allow time to firm up in fridge, to facilitate easy shaping of the logs and to ensure logs do not spread too much in baking, resulting in thinner biscotti. Batter can be made and allowed to rest overnight. Biscotti keep well in the freezer for a few months, as long as they are stored in well-sealed containers or bags.
Ingredients
1 cup

(200g)

granulated sugar

1/4 cup

(56g)

unsalted butter, at room temperature

1/4 cup

(50g)

olive oil or neutral oil, like grapeseed

2

TB

whole anise seed

2

tsp

ground anise seed

2

tsp

vanilla or anise extract

2

TB

bourbon, brandy or other liqueur of choice

3

large eggs

1

cup

almonds, toasted (can use whole raw almonds, toasted, then roughly chopped, or use slivered or sliced almonds)

can also use walnuts or pistachios here

2 1/2 cups

(300g)

all purpose flour

1 1/2

tsp

baking powder

1/4

tsp

fine sea salt

if using coarser salt, use 1/2 tsp
Instructions
To a large bowl, or bowl of stand mixer, add in the sugar and the softened butter. Mix thoroughly until no butter lumps or streaks remain. Beat in the olive oil until smooth and evenly incorporated. Add anise seeds, extract and ground anise and liqueur of choice.

Beat in the eggs until the mixture is pale, 2-3 minutes using a stand mixer or 4-5 if whisking by hand.

Add the almonds or nuts of choice, and mix. If using a stand mixer, be sure to scrape down the bowl to ensure even ingredient incorporation.

Add the flour and the baking powder, and mix until a smooth batter is formed. If using a stand mixer, I like to finish mixing by hand to ensure all ingredients, inlcuding those that may lurk on bottom of bowl, are incoroporated.

Cover the bowl and refrigerate for up to 2 days, and a minimum of 4 hours. This allows dough to firm for easy log shaping.

After cooling, prepare to bake. Preheat oven to 375F. Line 2 standard sheet pans with parchment. Arrange 1 rack in middle of oven and 1 rack in lower third of oven.

Working with the cold dough, divide it into 4 portions. Lightly grease your hands and work surface (you could also use flour), and roll 1 portion (so 1/4) of the dough into a log that is about 8-10" long, and about 1 1/2" thick. My tip here is that the rounder the log, the taller/thicker the biscotti, to aim for a cylinder shape as much as you can.

Transfer the logs to the baking sheets, re-shaping as needed. Do not worry if the logs are not perfect, they will bake/puff up and out.

Bake logs for 15-20 minutes, rotating the pans half-way through. Bake until logs are puffed and firm.

Remove from oven and allow to cool for about 10 minutes. Using a sharp, non-serrated knife, cut into 1/2" slices. Place back on sheet pans.

Bake for 5-7 minutes, or until just golden. Flip the cookies, and bake again for 5-7 minutes, rotating the pans from middle to bottom, until golden. Allow to cool on cooling racks until completely cool.

Store in containers or bags, at room temp or in the freezer.