It is spring, so the pink celery is back in season! It is for sure one of my favorite markers of spring in the midwest, and along with it comes rhubarb crisp, pie and coffee cake, and this rhubarb berry galette with spelt quick puff pastry. Oddly enough, my aunt Amy dislikes rhubarb, but her rhubarb crisp was/is the best. Probably because she's not afraid of butter or sugar – both essential things that make rhubarb desserts delicious. Don't get me wrong – I love that sour, musty, almost savory bite of rhubarb – but under-sweetened rhubarb desserts really irritate me.
I love driving on country roads, rubber-necking in people's yards and in ditches for rhubarb. Is it rhubarb, or burdock? Bright pink and red stems will tell. Just be sure to ask for permission before foraging for rhubarb – it is the right thing to do. I foraged my rhubarb in the Willy Street Coop produce section, so it was a rather safe bet.
Spring also heralds berry season, so naturally, a rhubarb berry galette with spelt quick puff pastry was in order. Scrolling through my photos, I've noticed that I've transposed my pie-making to galette making in the last few years. I appreciate a good pie – who doesn't – but galettes are more…. low-key. I also love the fruit/filling to pastry ratio – roughly 50:50 is perfect for me. Add a scoop of ice cream (may I suggest this creme fraiche and vanilla number?), and you have yourself a slice of spring/summer perfection.
As I just mentioned, I love the pastry element of pies and galettes. I know that most folks typically have their go-to pie pastry recipe (I have mine!), but I couldn't help by trying a new, streamlined take on quick puff from Yossy's book Sweeter Off the Vine. I made a batch of her spelt quick puff pastry in January, and it has produced several deliciously flakey galettes. I'll most certainly re-make this recipe and stash it away in the freezer. If you're like us and have a smaller family (ahem, just me and my hubs, plus the occasional visitor), I may suggest freezing in 6 portions if smaller galettes, like this one, are desired. This one served three people roughly 2 servings – and a full size (made with 1/3 of the recipe) serves a little more than double of that. Take your pick!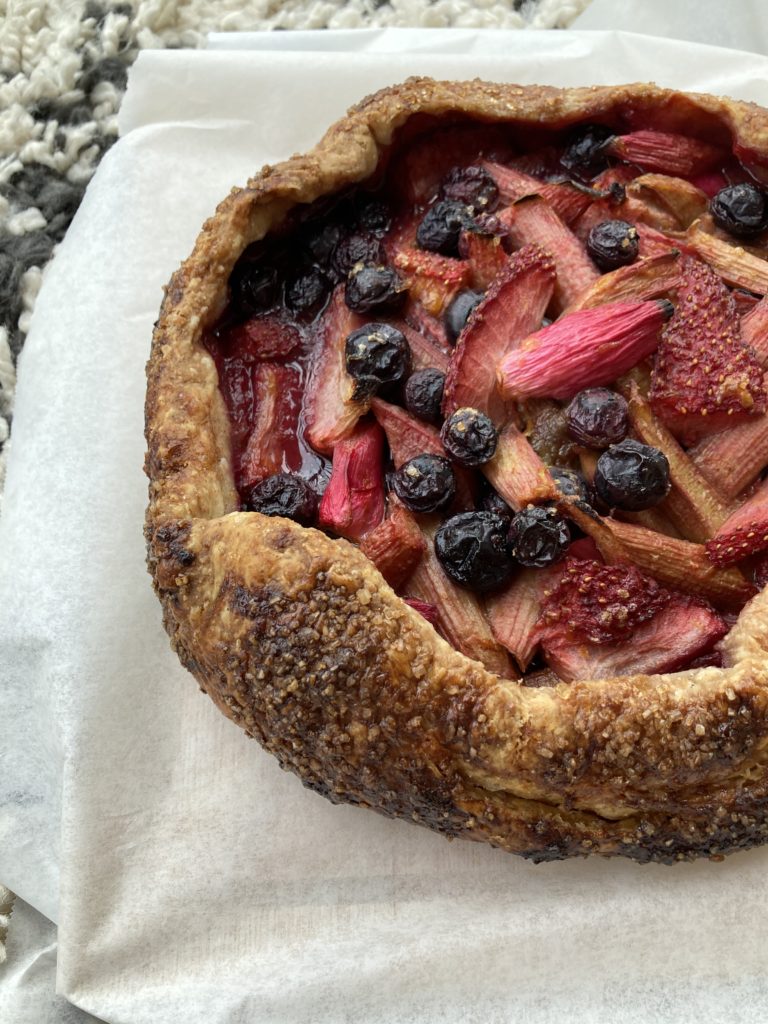 Toss whatever fruit you have in the filling – we went with about 350g-400g of total fruit: strawberries and rhubarb cut into 1″ chunks and a handful of blueberries. Add sugar to taste, and optionally some citrus zest, and cinnamon or spices of choice – a pinch of salt, too. Place into rolled-out quick puff, fold edges, egg wash, sprinkle with coarse sugar and sea salt, and bake!

I am a chronic over-filler of galettes – but recommend at least a 1.5" over-lap of dough around the filling. Any less, and the edges may collapse or puff open when baking – so definitely bake on a parchment or Silpat-lined tray, just in case.
Rhubarb and Berry Galette with Spelt Quick Puff Pastry
Perfectly flakey and crisp pastry, made slightly more tender with spelt flour, cradles juicy-tart-sweet rhubarb and berries. Puff pastry can be prepared in advance – it will need at least 1 hour of chilling time after preparing. Note that 1/3 of the spelt quick puff pastry below will make 1 larger galette, and 1/6 of the spelt quick puff pastry will make 1 smaller galette (of which the filling below is written for – double filling quantity if the larger galette made with 1/3 of the pastry is desired). Spelt quick puff pastry recipe is adapted from Yossy Arefi.
Ingredients
Spelt Quick Puff Pastry
3

cups (680g)

cold unsalted butter

cut into 1/2" cubes

2 1/4

cups (280g)

all purpose flour

2

cup (255g)

spelt flour

I used Bob's Red Mill – the whole grainy type

2

tsp

salt

1

cup (240g)

ice cold water
Galette Filling for 1/6 of the Spelt Quick Puff Pastry
300-400g

fruit of choice

chopped into 1/2" pieces if larger, like strawberries and rhubarb

1/4-1/2

cup

sugar

to taste, depending on how tart fruit is

pinch

salt

lemon zest

optional

sprinkle of cinnamon, ginger and/or nutmeg

optional
Assembly, Egg Wash & Topping
1-2

tsp

all purpose flour

for sprinkling on rolled galette dough before placing fruit filling on

1

tsp

water or milk

1

egg

1-2

TB

coarse sugar, such as demerara

optional

pinch

coarse sea salt, such as Maldon

optional
Instructions
Spelt Quick Puff Pastry
In the bowl of a stand mixer (or you can do this by hand with forks or a pastry cutter), combine all ingredients except for water. Pulse on low to coat butter in flour.

Mix on low speed until the butter breaks up into smaller pieces. I aimed for a range of a walnut half and pea-sized butter chunks.

Add the cold water, all at once and mix for about 15 seconds until there is a shaggy mess in the bowl. Don't panic!

Turn mixture onto a lightly floured work surface, and pat into a roughly 1" thick rectangle. It may be messy, but keep on. The dough comes together more as it is worked.

Turn the right 1/3 over towards the center, and then the left 1/3 over the other two-thirds, like a letter. Turn dough 90 degrees, pat into 1" rectangle, and repeat folding process. Repeat this once more (for a total of 3 turns). Lightly flour the work surface if the dough begins to stick at any point.

If the butter or dough feel greasy or warm at any point, stop, and place dough on a sheet pan and place in the fridge for a few moments until the butter has firmed up just a touch.

Divide the dough into roughly 3 equal pieces (approx. 450g), or 6 smaller pieces (approx. 225g) for smaller galettes as in the above recipe. If you know you'll want a round galette, it is easier to form the dough into a round before storing in the fridge or freezer, but this is optional. I left my rectangular. Wrap and refrigerated or freeze the dough.
Galette
If frozen, thaw the dough overnight in the fridge or place at room temp for a few hours. Pre-heat oven to 425F, with a rack in the middle of your oven. Line a sheet pan with parchment or Silpat.

Mix the filling by combining all ingredients in a bowl, tossing to combine. Set aside to macerate while you roll out the quick puff.

On a lightly floured surface, roll the 1/6 of a portion of the spelt quick puff. Turn often, and flour the work surface as needed. Roll until the dough is the shape desired – rectangle, round, sqround blob – and is about 1/4" thick.

Transfer rolled dough onto prepared sheet pan. Sprinkle the inner portion of the dough with flour (leaving 1 to 1 1/2" un-floured around the circumference). Use a teaspoon or so for a lightldusting – this will help absorb the fruit juices. Place fruit filling and juices into center, arranging as best as possible into a mound that will allow for about 1 1/2" of dough around the circumference or edge.

Fold the edges of the dough over the filling, gently pressing down on the overlaps. Place galette in the freezer while you make the egg wash (mix egg with water, strain if desired).

Brush galette generously with the egg wash, and sprinkle with coarse sugar and a pinch of coarse sea salt. Bake until the galette is golden brown and puffy, and the filling is bubbly – about 30-50 minutes depending on your oven, fruit moisture content and thickness of galette.

Allow to cool slightly before serving.
Notes
As mentioned, this dough should be made at least 1 hour in advance, ideally a day in advance if using it fresh.
The dough can be refrigerated for up to 1 week, and frozen for up to 3-4 months.  Prior to refrigeration or freezing, wrap 1/3 or 1/6 portions for larger or smaller galettes, respectively, in plastic wrap then place in a ziplock bag.
Galette is best day-of, but will still be tasty a day or two after baking.